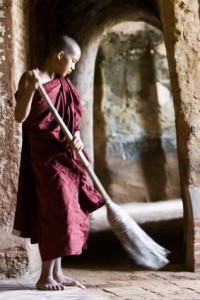 Cleaning is an essential part of spirituality. Cleaning a floor or your toilet, washing your clothes or your dishes humbles the ego. It cleans your etheric body of many accumulated thoughts and emotions. Cleaning can help you experience No-Mind in the Here and Now. Clean with care and enjoy feeling the space that opens inside and outside. Clean with joy, so you can discover the joy of creativity that is within your being. This joy is not separate from Joy that permeates the whole of existence.
~ Eliza Mada Dalian
View Mada's Calendar of Events for upcoming seminars & workshops in your area.
Discover many practical exercises by Mada in the best selling guidebook to your inner truth: In Search of the Miraculous: Healing into Consciousness. Available at www.healingintoconsciousness.com, amazon.com, amazon.ca, B&N, and Chapters.