The beauty of this story brought tears to our eyes, and we wanted to share with all of you.
A note of gratitude from Loralee Curtis:
I am writing to express my deepest heartfelt gratitude to Mada for her assistance in the facilitation of the passing of my beloved father by means of her Transcending the Fear of Death and the Unknown Meditation.
About a month before my father's passing, I was able to speak with Mada about symptoms I was experiencing in my own body that would wake me up every night with a terrifying feeling and dread that my body was dying. Mada saw that because of my close connection with my father I was experiencing his death process in my own body and suggested that I do the meditation myself, and also play it for him before his death and at his passing.
Although my father had severe dementia and lost his ability to communicate for the most part, my father and I were able to learn how to communicate with each other telepathically up until and even after the death of his body. Due to this, I was able to experience directly a peace that came over him and a sense of well-being while playing the mediation for him before his body died; which brought me great comfort for him, as well as myself.
On the day of his passing, when it was clear that the time was close; I put the meditation on and my husband and I sat with him in awe of this beautiful process. We both felt enveloped in this sweet beautiful silent peace held by Mada's loving and gentle presence and voice. What struck us was at the very moment that Mada reached the lungs, my father took his last breath, as if his body was moving right along with Mada's loving voice. I put my ear on my father's chest for the sound of the last beat of his heart, in tune with Mada's facilitation. The love and immovable still peace in the air was so tenderly thick and beautiful, as if in witness to the most sacred of births – his transition from physical life.
About twenty or so minutes after his last breath, I could sense some energetic movement in my being, which was so in contrast to the immovable stillness that was previously there. And then, like a soft silent puff from an air-filled balloon, it was as if he had just dissolved softly and so very gently into Light.
He passed with a soft, blissful divine smile on his face. Even the staff and the family that came afterward were struck and moved by this tender smile which looked as if he had just beheld the Presence of God.
Thank you Mada for this Divine Blessing. How could words ever express this love and gratitude in my heart for giving my father the most precious gift one could give?
The experience of this is enshrined in my heart for the rest of my life.
In deep, deep Love, Gratitude, and Reverence to you.
Loralee Curtis
Photo Credit: Neal. via Compfight cc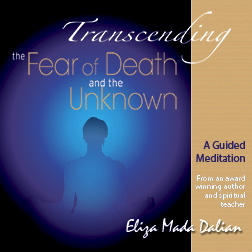 Transcending the Fear of Death & the Unknown MP3 by Eliza Mada Dalian
A deeply transformative guided visualization  to help you dis-identify from the fear of death and the unknown, finish unfinished business, cultivate courage and trust, deepen your self-awareness, and facilitate the process of healing into consciousness.
Available at the Healing into Consciousness Store