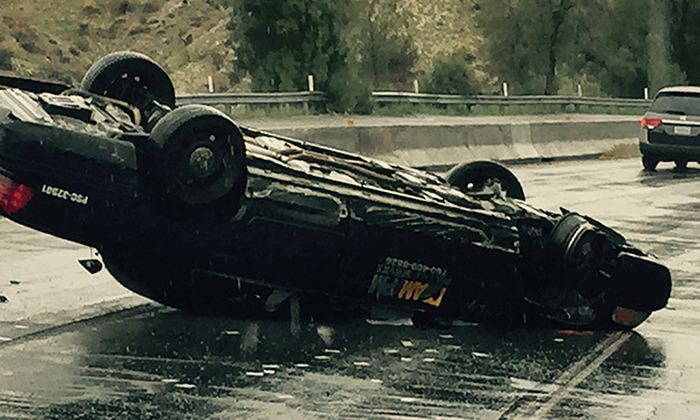 Greetings beloved friends and fellow travellers.
This blog entry is from the Newsletter that went out on March 2015.  I felt this miraculous survival story written as a follow up to the 7-day retreat at Joshua Tree must also be featured in my blog so here it is!
As we (Jessica, Lila, Gary and I) arrived at Joshua Tree Retreat Center on March 1st, we heard that Dr. Rick Chehil, one of our participants, was in a car accident on his way to the retreat center. He had booked a local shuttle company to drive him from Palm Springs to Joshua Tree. Half way through the ride he felt uneasy as the driver began to speed. He thought to ask the driver to slow down, but held back. Minutes later, the driver lost control of the wheel and drove into the crash barrier wall. The car rolled over (see photo above). Miraculously, Rick managed to crawl out of the car without a scratch but the driver was badly injured!
Though in a shock from what had happened, being a doctor, Rick did not panic and gracefully rejected the offer to be driven to a hospital, stating that he was fine. He was delivered to the retreat center by police and had already checked into his room by the time we arrived.
When we heard what had happened we dropped everything we were supposed to do and began looking for him. When we found him, he was still under the shock from the accident. He complained of pain in his shoulder but sweetly reassuring us that he was ok. I insisted that he went to the hospital for an X-ray to be sure that he had no broken bones. I knew that I could take care of his mental/emotional state later. I also knew that this experience was a blessing in disguise for him, as well as for the 24 other people who were still arriving to the retreat.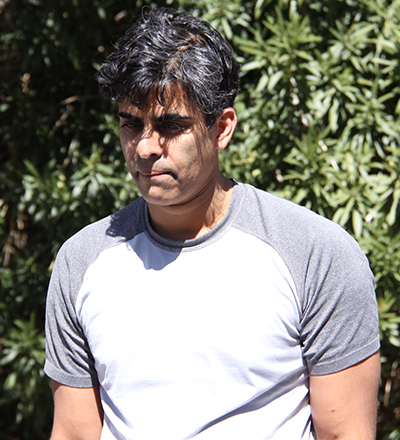 After dinner, as we all gathered for our first evening of the retreat, I looked into Rick's body so I could help to clear the shock out of his system. I looked into the right and left sides of his body, all the way from his feet to his head, and his chakra points. Each area I looked at said, "I'm afraid to die." (Imagine yourself in his place. Wouldn't the fear of death be the only thought on your mind as you roll over in a car?)
Using the Dalian Method (DM) I helped Rick release the fear and associated thought "I am afraid to die" from his body. Through the process of DM he also learned two very important lessons. Firstly, he became aware of the eternal presence within himself and saw that his being can never die. Secondly, he learned that he must always listen to his intuition and speak his truth without being afraid to accommodate or hurt others' feelings. Had he not accommodated the driver's speeding he would have helped him to avoid the accident.
With both these valuable lessons learned in less than 10 minutes of using DM, the shock of the accident was completely erased from Rick's body. His body and mind immediately relaxed and the pain in his shoulder miraculously vanished. For the inflammation in the shoulder I suggested he take Advil for a few days, which he already knew he should, and his shoulder was back to normal in a couple of days.
This story is a perfect illustration of how the Dalian Method (DM) can be integrated with allopathic medicine to provide complete health care! To me, this is the way of the future for generations to come… Had Dr. Chehil not been able to clear the shock of the accident from his body using DM, he would have continued to suffer the physical, mental, and emotional shock of the accident through reoccurring bouts of chronic pain in his shoulder for the rest of his life. This would have happened each time he would have faced any life threatening situation that automatically activates the fear of death. Instead, after learning the most important life lesson that his being is eternal and it can never die, he will be able to live his life more fully and enjoy everything that the unknown has to offer.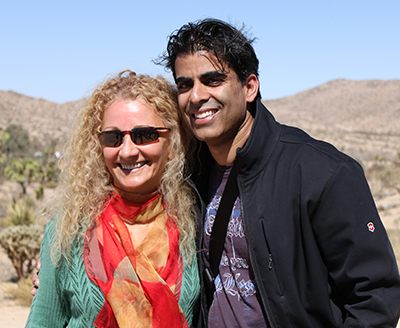 The blessing of Dr. Chehil's experience not only helped him to get into his own power and realize that he must live his life without holding anything back, but it also helped everyone else in the group to feel encouraged to clear their own repressed fears, beliefs, and conditionings that have been weighing them down. I think Dr. Chehil has an important mission ahead of him now and can begin to help thousands of people heal the way he was healed incorporating the Dalian Method alongside western medicine!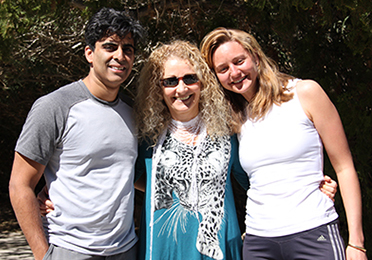 We also had another doctor in the retreat, Dr. Mattanja Dirks (as seen in this photo), who has been eager to learn how to incorporate the Dalian Method in her practice. Based on her own experience, she was able to heal her injured ankle within days using the Dalian Method, which, according to her, would have taken months to heal with conventional medicine.
I hope that anyone facing a life challenge (physical, mental, or emotional) can use the magic and power of the Dalian Method to help transform their challenges into tribulations and expand their consciousness!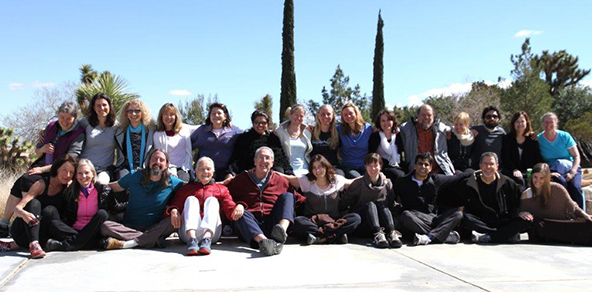 With so many kind people gathered in one place, we all had a truly spectacular and deeply transformative time. Through many tears and laughter each person courageously went into the deepest corners of their unconscious while at the same time opening their hearts to enormous possibilities of love, creativity, and joy.